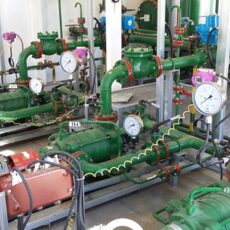 Station is designed to supply automatically water into the water network without the staff control.
Station consists of units and blocks in full readiness mounted inside the block box. It is supplying with a full set of consumables, life-support systems, SPTA and operational documentation.
The room of pumping stations is provided with permanent natural balanced ventilation through the louvered grille with flaps.
Pumps supplying water into the water system are operated in automatic mode.
The pump station equipped with a local control system.
There is an automatic system of prefilling of pumping aggregates.