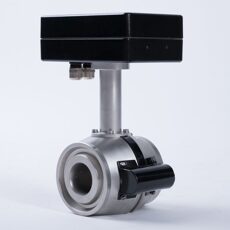 Ultrasonic Liquid Flow Meters «NOTE-B» is designed to measure the volume flow and volume of liquid media in the systems of reservoir pressure maintenance (spray pump stations, water distribution points, pipelines and wells) in the oil industry, including in the explosive zones in which the formation of explosive mixtures of categories III, III, T1 – T5 temperature classes according to the classification of GOST 30852.0-2002 in accordance with the requirements of the "Safety Rules in Oil and Gas Industry".
Main technical characteristics
| | |
| --- | --- |
| Output interface | RS485-MODBUS RTU, pulsed output, discrete output |
| Viscosity measured media | 0,3 to 1,8 MPa*s |
| Diameter of conditional pass | 50, 100, 150, 200 mm |
| Dinamic range | 1:300 |
| Measured media | Water or mineralized water with hydrogen sulphide |
| Maximum pressure of measured media | 25 MPа |
| Calibration interval | 4 years |
| Direction of flow | reverse |
| Temperature of measured media | -5 to +125°С |
| Temperature of Environment | -45 to +70°С |
Flowmeters line "NOTA-B" belong to the category of" smart "devices that have additional functions for solving complex engineering problems of intellectual fields with the use of"Internet of things" technology.
The compact design of the flowmeter with a built-in archive and flow meters are cumulative, discrete outputs (pulse and flow direction) digital Modbus RTU interface. On the basis of flowmeters and means of collecting information, it is possible to create an accounting system, the consumer capabilities of which, through the synthesis of information, go far beyond the level of simple flow measurement.
Main metrological characteristics
Diameter of conditional pass, mm

Range of costs, m3/hour

Relative error, %

from

to

32

0,2

0,8

3,0

0,8

40,0

1,5

50

0,3

1,0

3,0

1,0

100,0

1,5

100

1,0

3,0

3,0

3,0

340,0

1,5

150

2,5

7,0

3,0

7,0

750,0

1,5

200

4,0

13,0

3,0

13,0

1350,0

1,5

Remark: Relative error is independent of direction of flow.
Benefits
High-quality and reliable measurement tools, which is a modern high-tech products, can only be created on the edge of several substantially disparate disciplines. In our case it is:
- hydrodynamics describing the process of fluid flow and ultimately strongly influencing the measurement error of the product;
- acoustics and wave optics describing the process of formation and distribution of the signal in the product, the interaction of signals with the controlled environment;
- designing, including casing, sensors and printed circuit boards (PCBs);
- electronics, as a means of forming the probing medium of exposure and reception of carrier information about the behavior of the medium signals, including techniques from the field of microwave technology;
- means and methods of calculation, allowing, using rational methods, to estimate in real time at low energy consumption the target characteristics of the controlled environment, such as consumption by the results of measurements, and the period of time of measurement.