VOSTOK NEFTEGAZ is focused on the following key areas of activity:
- production of equipment for pigging the pipeline interior and monitoring devices of varied functionality;
- pigging and engineering diagnostics of pipelines;
- examination of industrial safety of hazardous production facilities.
Сleaning pigs are designed for pigging of interior of pipelines Ø=89–1420 mm. (incl. the long time uncleaned ones).



Details
"VOSTOK - PS " pigs feature 2 sections , jointly interconnected with a coil spring, which allows the cleaning pig twist and revert to the original state while moving through branch connections and pipeline turns with Ø=89–530 mm.


Details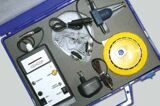 Acoustic transmitter "VOSTOK-AL" is designed for monitoring of location of cleaning and intelligent tools in random spots of the pipeline corridor from the ground surface, as well as in gate valves, plug valves, and open segments of the pipeline. The device features an electronic control unit, a headset, a geophone with extension cable, a conical dowel, a magnetic holder, a power cord (compatible with car's lighter socket), a charging unit and a storage box.


Details