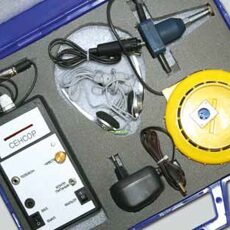 ACOUSTIC TRANSMITTER «VOSTOK-AL»
Acoustic transmitter "VOSTOK-AL" is designed for monitoring of location of cleaning and intelligent tools in
random spots of the pipeline corridor from the ground surface, as well as in gate valves, plug valves, and open segments of the pipeline. The device features an electronic control unit, a headset, a geophone with
extension cable, a conical dowel, a magnetic holder, a power cord (compatible with car's lighter socket), a charging unit and a storage box.
KEY TECHNICAL PARAMETERS
1. Device weight in storage box – 2,2 kg.
2. Critical dimensions – 390х365х80 mm.
3. Period of continuous operation using internal power source – min 50 hours.
4. Maximum distance of device detection – 2500 m (depending on device's design and method of sensitive element installation).
5. Extension cable length – 8–10 m.
6. Device's motion speed is not limited.
The geophone is installed in place of monitoring truevertically, digging the conical dowel in the ground above the pipeline or using the magnetic holder to place the device onto the valves or the pipeline itself. The device's motion is monitored aurally using the headset and/or visually using the LED indicator. Device's motion speed is not limited.