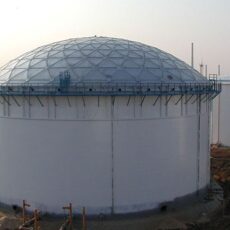 The aluminum dome-shaped roof has all necessary equipment required for the tank operation.
These aluminum alloys have been used in structural units for more than 40 years. They are almost as strong as steel, being 3 times lighter. These aluminum alloys exhibit higher corrosion and cold resistance.
The dome-shaped roof is designed for a particular Customer, taking into account the specific features of each tank and local climate (snow and wind loads, seismic activity).
RELIABILITY FIGURES:
1.Service life – at least, 50 years.
2. Time span between overhauls – at least 20 years.
3. Corrosion – none.
The strength properties are established through strength calculations at the stage of detailed engineering, using a certified software (structural analysis and design package Structure CAD for Windows — SCAD).

The aluminum dome-shaped roof is a grid structure consisting of a framework and a deck. The framework beams are connected at the nodes with upper and lower joint plates.

The framework elements are connected with each other, and the deck is connected to the framework with bolts and screws, which is technically reasonable from the point of view of mounting or disassembly when it is necessary to install the roof on another tank.

The aluminum dome-shaped design allows it to be installed inside the tank without using a special mounting platform.