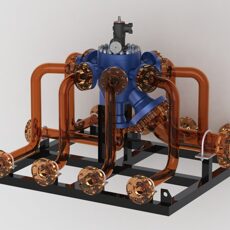 Compact solution for selecting and diverting of well fluids
DESIGN AND СONFIGURATION
OZNA Multiport Flow Selector (MPFS) is a reliable, cost effective and compact means for production management improvement and well optimization. OZNA-MPFS allows selecting and diverting of well fluids from an individual well to a metering stream. Connecting up to 8 flow lines, the Multiport Flow Selector allows the combined fluids to flow through a separate group outlet, while simultaneously isolating any single well for testing. OZNA-MPFS can also be used for water injection to perform pressure buildup and enhanced oil recovery.
APPLICATION AND FEATURES
1.More cost-effective and compact than either conventional two-way or three-wayvalve manifolds.
2.Available with a multitude of trims and surface treatments for all operatingenvironments.
3.MPFS is equipped with strengthened hydraulic drive to enhance reliability, simplifymaintenance and reduce costs.
4.Operating temperature range: -20°F to +392°F (-29°C to +200°C).
5.AUMA and EIM electric drive modifications are available additionally to hydraulic drive.
6.Explosion protection class IExdIIАТ3.
7.Flow selector position indication is carried out with binary code through 24V powersupplied 5-wire circuit. Two-wire communication system modification is available (Modbus).
8."Leak control" modification is available.
ASSEMBLY AND FEATURES
Nominal sizes for various pressure ratings
Size
ANSI Class
150
300
600
900
1500
2*4
Х
Х
Х
Х
3*6
Х
Х
Х
Х
Х
4*8
Х
Х
Х
Х
Model designations as follows:
A x B ANSI rating, where
А = Well inlet/test outlet internal diameters (inches).
В = Group outlet internal diameter (inches).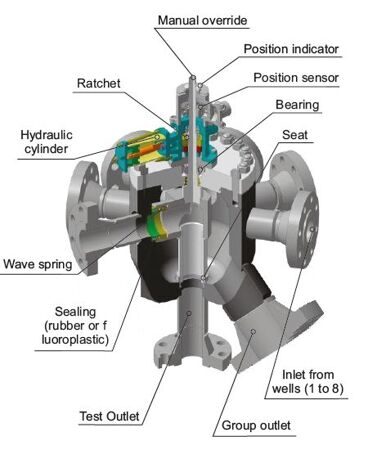 OZNA-MPFS ADVANTAGES
Initial Purchase/Commissioning
- Reduced number of valves
- Reduced piping costs
- Reduced automation costs
- Reduced wiring costs
- Reduced maintenance costs
- Reduced skid weight and size

Ownership/Maintenance
- Reduced operating costs
- Reduced parts cost
- Reduced downtime
- Reduced labor