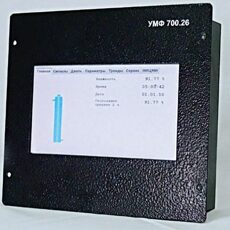 APPLICATION FOR WELLS AND FOR AUTOMATIC MEASURING SYSTEMS (AMS)
The main applications of the humidity meter are the oil production wells and AMS accounting units functioning in different operating conditions: flow speed, pressure, temperature and presence of gases released from the liquid. The use of the oil/water meter at wells and AMS facilities provides the current monitoring of the ratio of oil and water in the produced liquid to assess the profitability of wells and also
become the central link in an intelligent well control.
APPLICATION FOR OIL QUALITY MEASUREMENT BLOCKS
The relevant application of the oil/water meter MPV700 for oil quality measurement blocks. When the humidity meter is installed into the oil quality measurement blocks, the main advantage of this system becomes its high sensitivity (not more than 0.05%), Operation of the system does not depend on the complexity of the technological process, the presence of stable emulsion and gas separation.
APPLICATION FOR OIL AND WATER TREATMENT PLANTS
A wide range of water content measurements from 0 to 100% makes it possible to effectively use the system at
different stages of oil and water treatment. The functioning system in the humidity meter mode will provide information about the quality of oil and water treatment in the most
critical technological units of the installation. The system can be used not only as a measuring
device, but also to control the valves of oil and water discharge on technological devices.
TECHNICAL SPECIFICATIONS
Measured features:

instant water content in the flow

moving average water content in the flow

volume of pumped oil per time (when working with the flowmeter)

Measured medium:
A liquid containing oil, gas, water
Range of measurements of the volume fraction
of water
0 to 100%
Absolute measurement accuracy of volume
fraction of water:
water content range from 0 to 50%
0,4%
water content range from 50 to 100%
of 1,5%
Ambient temperature range:
-50 to +55 °C
Free gas content
10%

Overpressure not more than

4MPa
Supply voltage:
15 to 48 V
Power consumption:
5 W
Explosion proof:
1ExdiaIIBT6
Protection level:
Ip66
Secondary devices:

1. Controller UMF700.26
2. Interface converter

Data transfer interfaces
Standard:
RS485 start UART stacking

1. Modbus RTU Master
2. Modbus RTU Slave
Modbus TCP / IP

Ethernet
Optional
Current loop 4 - 20 mA

1. 6 channels (output)
2. 5 channels (input

Relay output 250V 5A
Binary input

4 channels
2 channels