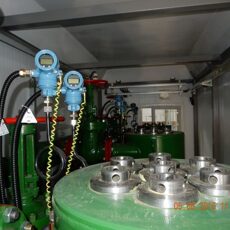 HCCF Filters are intended for cleaning liquids, gas and gas condensate from mechanical impurities and in order to proect the components of the technological system from mechanical wear and contamination, with a filtration fineness of up to 3 microns.
Filters may be used in:
- pressure support system into the soak up pumping line;
- oil measuring units to protect sensor device from pollution;
- technological system of water and heat supply;
- fine purification units for liquids (kerosene, oil, gasoline) from
dash impurities in purpose to improve product condition.
HCC FILTER ADVANTAGES
- Working capacity of the Dirty Filter might be restored by simple procedure of backwashing.
- Dirty Filter cleaning procedure might be done without interrupting the process cycle.
- Easy in installation to the pipelines and quick change cartridges – no needs to divide Jacket or disconnect pipeline.
- Possibility to arrange full automatic control without human operation.
ADDITIONAL INFORMATION:
- the capacity of filters depends on the grading of the impurity and on its specific amount and specified for each specific task;
- filters are made for working pressure from 1,6 to 21,0 MPa;
- fineness of filtration from 3mm to 0.005mm and is specified when ordering filters based on conditions and parameters of the working environment and taking into account the maximum allowable pressure drop across the filter.