"VOSTOK - PS" pigs feature 2 sections, jointly interconnected with a coil spring, which allows the cleaning pig twist and revert to the original state while moving through branch connections and pipeline turns with Ø=89–530 mm.
OTHER TYPES OF CLEANING PIGS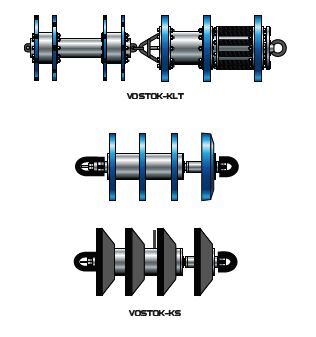 CLEANING PIGS WITH INTEGRATED TRANSMITTER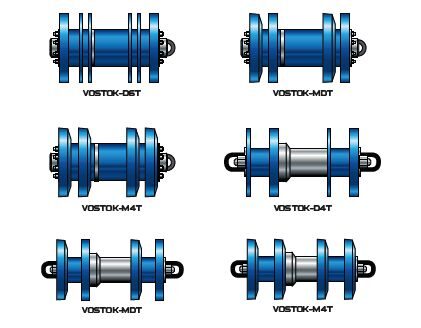 "VOSTOK - D6T", "VOSTOK - D4T" and "VOSTOK-MDT" type cleaning pigs are designed for pigging and inspecting gauging (inspecting the bore) of pipelines with Ø=114 mm, 159 mm, 168 mm, 219 mm, 273 mm, 325 mm. Transmitter is the actual body of the cleaning pig for pipelines with Ø=114–325 mm. For pipelines with Ø=325–1420 mm the transmitter is integrated into the body of the cleaning pig, which allows to control the pig's movement along the pipeline, track and identify its location from the ground surface in case of the pig's stoppage. Cleaning pigs pass 90-degree branch connections with bend radius of 1,5 DN and higher, as well as straight unbarred tees.
OTHER TYPES OF CLEANING PIGS WITH INTEGRATED TRANSMITTER